Celebration Individual cakes or Afternoon Tea, delivered and served at your venue or home.
In our kitchen, we lovingly bake, the most delicious homemade cakes, bakes, desserts and savouries. Using only premium ingredients, we are more than happy and keen to bake for any dietary need or food intolerance, such as Diabetic, Gluten or Dairy free, Vegan even fat free! So not always necessarily naughty but most definitely always nice!
We boast a wide selection of cakes and bakes to choose from, containing various fruits, vegetables and other ingredients. They can be attractively boxed or gift-wrapped for that special occasion, or simply delivered locally for an afternoon treat of welcoming visitors.
We have available, from the regular old favourites such as Carrot Cake, Lemon Drizzle, Fruit Cake, Coffee & Walnut, Chocolate Cake and Cupcakes to some of our other popular hits: Lime & Blueberry Drizzle, Chocolate Orange Bundt, Raspberry, Rose & Earl Grey Loaf, Spiced Apple Traybake, Butternut & Maple Bundt, Cherry Bakewell Cake, Bread Pudding, & Savoury Muffins!
---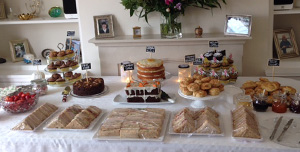 AFTERNOON TEA
In addition to our individual bakes, we can provide attractive afternoon teas for all occasions: baby showers, birthdays, celebrations, funerals, anniversaries, and others.
We will visit your home or venue, and set up an eye-catching display of our delicious cakes and scones, providing tea and coffee in vintage style crockery. We will be there to greet and serve the guests then clear it all away! (Minimum of 1.5 hours for 6 people £8.50pp)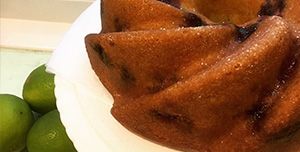 This is our now famous Lime & Blueberry Drizzle as showcased at Salt Café in Portchester Marina with a growing and enviable reputation. It always looks mouth-wateringly appealing as a Bundt.
You can choose this as a special individual cake, with a huge choice of Gluten Free options, baked to order and delivered locally. Just 24 hours notice so it's fresh from our oven to your plate!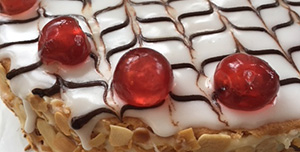 SPECIAL DIET...
NO PROBLEM!
This one is fondly known as Miss Cherry Bakewell and is a favourite with many!
All of my GF cakes get rave reviews with comments such as "The best Gluten Free cake I've ever tasted"... praise indeed. In fact, currently, we are specialising in GF at Salt Café due to their popularity.
Also of course... Vegan, fat free, raw, diabetes, etc all catered for, just ask away.
---