The story behind Baked By Naughty But Nice
My name is Debbie, and I began baking as a young child when I visited my Grandmother during the summer holidays. She had been a Home Economics teacher at near by Highbury College, so she definitely knew a thing or two. I still have and treasure an old recipe book of favourites that I compiled at the tender age of ten! I still use a version of the mock cream as an alternative to buttercream fillings in my cakes - as it's less sweet.
Alas, my lovely Mum really couldn't bake. However, I have fond and cherished memories of throwing one of her sponges around like a Frisbee, bought tears of laughter for my brother and I. - Bless her. But, her bread pudding was to die for, and her hand-me-down recipe, with my own twist, is my now sought after Mother's Bread Pudding.
"Baked by Naughty But Nice" evolved magically simply from my passion for cooking for family and friends whilst at the same time experimenting with a range of recipes. These I offered to others to taste, and so the phenomenon and demand grew.
I was then asked to bake one-offs and bake for a celebration tea party for 35 and so it went on.
Unlike many of the other talented cake makers around, (I say with all due modesty), my forte is not in the decoration of heavy icing, but more about the texture and flavours that my cakes bring. Simple, delicate decorations yes. But most of all, and surely - it's the taste that matters most!
From the beginning, I have promoted through Facebook and Instagram, showing photos of my creations. Then in January 2017, I started supplying the wonderful Salt Café in Portchester, each week with different Show Case bakes both sweet & savoury. I also was asked to bake several celebration "naked cakes" - a popular choice these days for there rustic charm. I LOVE the look of these!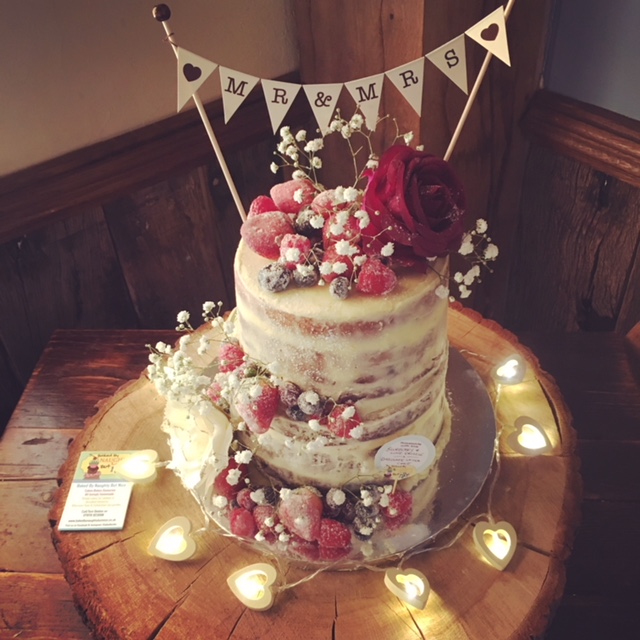 ---